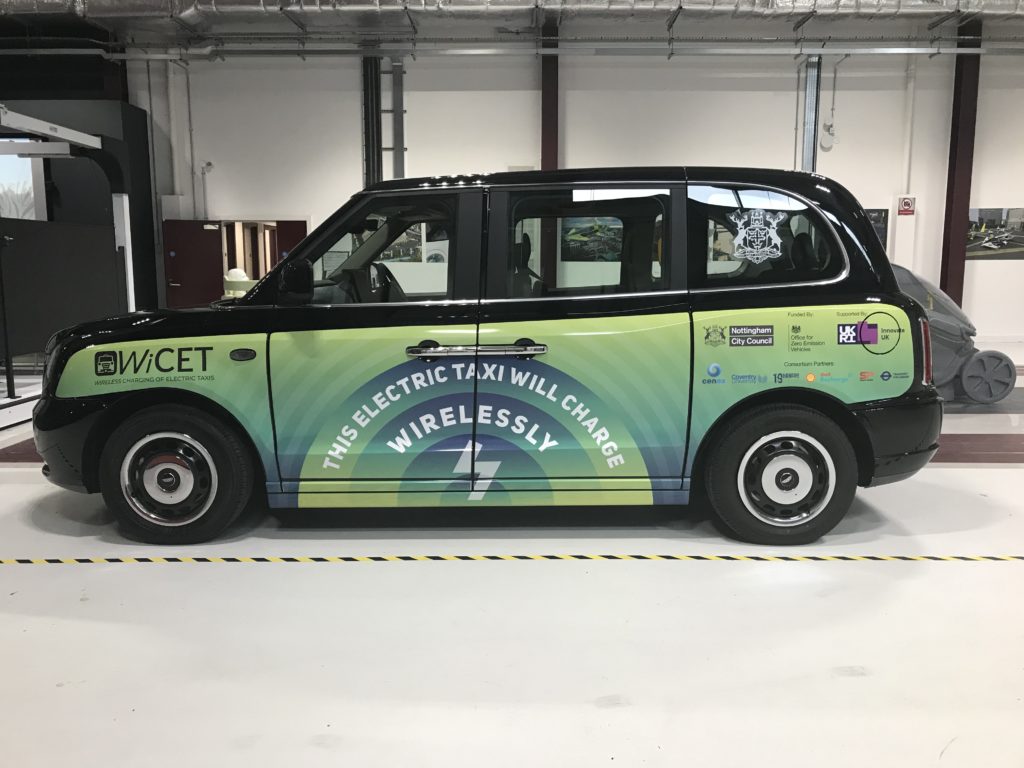 Introduction
Imagine a scenario where you are able to charge your electric Hackney Carriage at the taxi rank at Trent Street, without having to leave your vehicle to plug a cable in – all whilst waiting for your next fare. The Wireless Charging of Electric Taxis project (WiCET) aims to achieve exactly this.
How do I register my interest in participating in the WiCET trial?
To express your interest in taking part in the trial, please fill in the following Google form: https://forms.gle/txcKfngQdJRj1CKJ8
This form is to be used to collate expressions of interest in taking part in the trial.
Any information gathered in the form will only be used to support research purposes of the project and with the process of driver allocation for the WiCET taxis.
All data provided will be treated as strictly confidential and in accordance with General Data Protection Regulation (GDPR) (Privacy Notice), and the Data Protection Act 2018. The data will only be used for the purposes stated within the questionnaire and will be passed to WiCET project consortium partners Cenex and Coventry University in a pseudonymised format and not to any other third parties.
What does the trial involve?
We will be installing five wireless charging pads on Trent Street by January 2022. This will enable electric Hackney Carriage drivers to charge more conveniently than ever before – and we need you, as the Hackney Carriage drivers of Nottingham, to participate in our two-part trial.
Part 1 – From August 2021
Drivers will be given the opportunity to drive a fully licensed electric Hackney Carriage taxi (either LEVC TXe or Nissan Dynamo) for a period of 3 weeks to a month free of charge. Project-commissioned interviews with existing drivers of electric taxis in Nottingham has brought to light how their enjoyment of driving in the city has increased due to the quiet operation.
The taxis come fully insured with Hire and Reward and Public Liability insurance, liveried to Nottingham City Council standards with meters installed. The only thing you will need to pay is a fully refundable £100 deposit and for your own electricity when charging the vehicles. During this stage you can use any of the 17 dedicated rapid taxi chargepoints, the 100 other publicly available chargepoints in Nottingham or charge from home if you have a home chargepoint installed.
Part 2 – From January 2022
There will be further opportunity to drive an electric Hackney Carriage taxi, but this time with the additional benefit of wireless charging capability. Drivers will be able to not only test the electric features of the vehicle, but also charge conveniently at the Trent Street taxi rank.
How much will it cost me to participate?
It is free to sign up and use our vehicles except for an upfront deposit. Whilst the vehicle is in your ownership you will need to pay for the electricity to fuel the taxi. In the event of a collision requiring an insurance claim you will be expected to pay a maximum of £250 insurance excess contribution. It should be noted that the cost of recharging the electric taxi to cover your mileage will be considerably cheaper than refuelling a diesel taxi.
How does the WiCET Project benefit from my participation?
In Part 1, the project is looking to generate a baseline across a number of participants to understand how taxi drivers in Nottingham drive and charge an electric taxi without wireless charging capability.
In Part 2, the project intends to create a similar stream of data from driver behaviour, only this time with the taxis able to charge wirelessly.
In essence, with the support of willing drivers, we are able to test and analyse the case for future introduction of wireless charging in real-life taxi rank environments.
You can find out more about our data collection processes here.
Are the wireless chargers safe?
Yes, all the wireless charging equipment to be installed will be compliant with UK and European safety standards.
What's going on at Eastcroft?

The Eastcroft depot is the chosen location of our private pilot and you may have noticed the recently-erected project signage at this location. Two charging pads have also already been installed there. Two wirelessly enabled vehicles will regularly frequent this site over the coming months to test the operation of the wireless charging kit and fine-tune its systems integration before Part 2 of the trial begins. If there is interest, we are happy to arrange a drop-in session at Eastcroft to talk through our project plans.