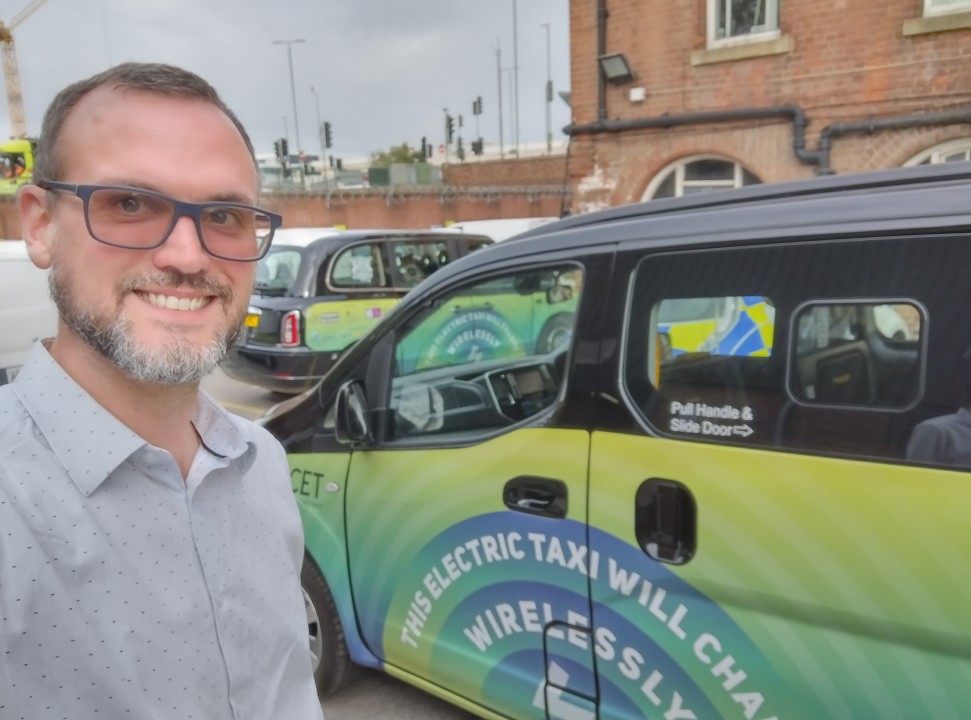 Chris Cox, Head of Energy Infrastructure at Cenex, diaries his journey from Nottingham to the Cenex-LCV event in Bedford.
Last week I had the unusual opportunity to becoming an honorary taxi driver – but not with just any old taxi. Nottingham City Council, along with Cenex and many others, are trialling the use of wireless charging for electric taxis.
The basic problem is that taxi drivers want to spend as much of their time doing business as possible. Any downtime is lost income, and daily mileage can be pretty high. This makes switching to electric something of a challenge.
One option would be to add extra batteries, but as batteries are the most expensive part of an electric vehicle this has a big impact on the upfront cost of buying an electric taxi. Taxi drivers spend a good proportion of their time queuing in taxi ranks. In theory it would be possible to have EV charging located all the way down the rank, but this would get in the way of the very pedestrians the taxi drivers are trying to pick up and would require drivers to plug in and unplug every time the queue moves forwards. Payment is even more of a headache, requiring a new transaction each time they plug in.
That's where wireless charging comes in – and more specifically the WiCET project.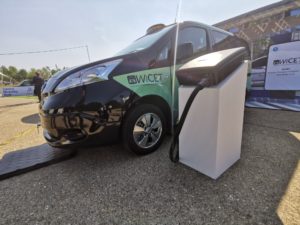 Wireless charging a vehicle is similar to wireless charging a mobile phone or toothbrush. You have a pad on the ground which connects to the electricity supply, and then you have a second pad (or receiver) fitted to the vehicle. When the vehicle moves over the pad, there is a little digital 'handshake' to identify the vehicles and find out if it wants/needs charging and if it's a yes then it starts transmitting power through the pads.
Unlike a mobile phone, however, wireless charging a vehicle requires transmitting the power through an air gap. This slightly reduces the efficiency of the charging, but with the current technologies this is already as high as 80%+ and is likely to keep getting better as the technologies improve.
In theory then, as you move up the taxi rank you continue to charge from one pad to the next – meaning that you spend more time charging and less time getting in and out of the car to plug in/unplug. It is also all recorded as a single transaction, which is handled digitally through the vehicle or a mobile app.
So far, so good. But what is the real experience like? Well, it's time to fess up – I didn't actually get to do much wireless charging as I was driving the taxi to and from the Low Carbon Vehicle event at UTAC Millbrook Proving Ground in Bedford. Instead, I'm going to talk about my experience as an electric taxi driver and whether I think Wireless makes sense.
Let's start with the vehicle itself. WiCET has two different models of wireless taxi which it is trialling, but it was the Dynamo electric taxi which I had the pleasure of driving. The Dynamo is a conversion of the Nissan eNV200, and I have to say that they have done an excellent job with it. I took it home one evening and my kids thought it was the most exciting thing in the world, declaring "When I'm older, this is the only sort of taxi I ever want to go in!". It's also a pleasure to drive – even over a long distance. However, my main challenges were two-fold; firstly the range.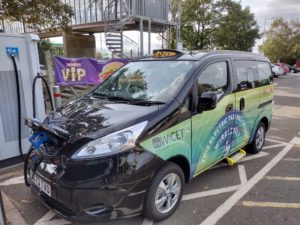 As with the eNV200 which it's based on, the Dynamo has quite limited range. It's fine for an urban environment, but when driving from the depot in Nottingham down to Bedford I was definitely reaching its limits. That said, thanks to some excellent, upgraded rapid chargers from Gridserve part way I was able to stop, join a virtual meeting and charge up at the same time. Once the meeting was done, I was ready to go again.
This then leads to my second challenge – although there is plenty of EV charging around, it's not where you need it as a taxi driver! I collected some delegates from the train at the start of the LCV event and was disappointed to find that there weren't chargers at the station. Similarly, when dropping people off I was stationary for good periods of time and unable to charge. From this experience, I can definitely say that wireless charging would have been really convenient and could have helped appease my range anxiety.
I guess this leads to the next question, which is – how much power could you actually get through wireless charging? The pads being used in WiCET are an 11 kW system. Put simply, that means that you'd add roughly 11 miles range for every 20 minutes you were over a pad. It's not a lot, but over a day that can really add up, and as the technology develops it is expected that the power will increase quite significantly as well. You probably wouldn't want to use wireless charging as the only power source, but if you can use wireless charging to complement the battery by topping it up here and there (in places you'd be stationary anyway) than you can avoid having to stop for an hour to rapid charge part way through the day. That sounds like a win-win to me!
Another thing which stood out from my experience was how many people asked me about wireless charging and how overwhelmingly positive peoples' reactions were towards it. There were the usual questions around "Is it safe?" (The WiCET project is carrying out leading research in this area, so you can expect to hear a lot more on this soon), but most people just wanted to understand how it worked. I think a lot of people understand the challenges around electrifying transport and see innovations like this as natural steps forwards in overcoming them.
So, overall – I still love electric vehicles (I can't quite stop smiling each time I get to drive one I haven't been in before!), and I think wireless charging has some really important applications – not just for taxi drivers, but in helping disabled drivers and people without a driveway make the move to electric vehicles. However, do I have a latent calling as a taxi driver? Maybe not. I quickly discovered that I don't have the brain capacity to navigate, watch the road and speak to passengers all at once!