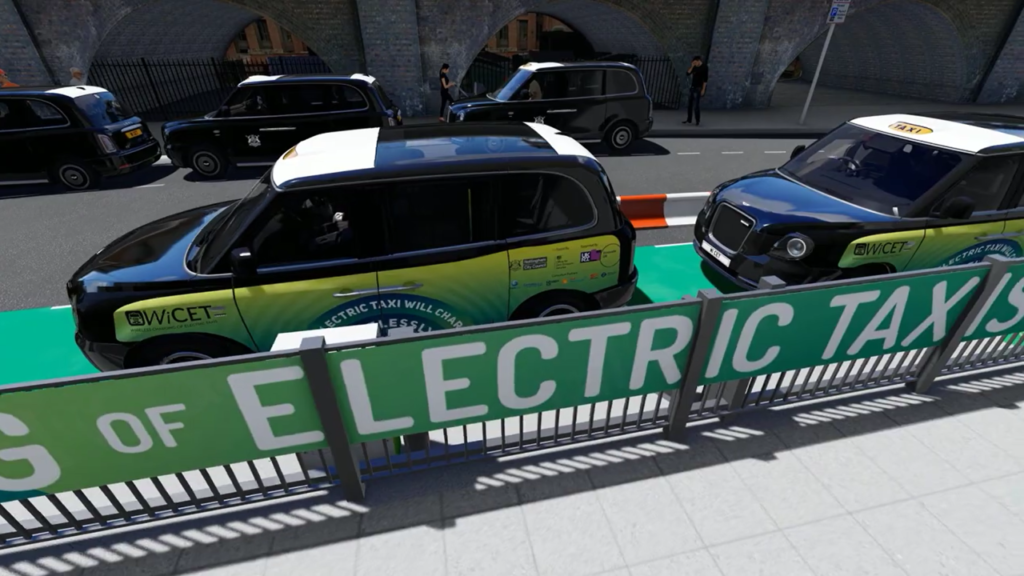 Words by Nottingham City Council
Watch to learn more about wireless charging technology for electric taxis, its benefits and how it will work in practice.
You may have seen construction is progressing fast on the new taxi wireless charging area on Trent Street, just next to Nottingham railway station. The fencing is complete, safety systems are installed, road markings are painted and four out of five wireless charging pads have been installed.
Our new visualisation video shows what the new taxi wireless charging space will look like once it is complete.
Sign-ups are open for local hackney cab drivers who wish to receive a free loan of one of the nine electric and hybrid taxis (five LEVC TX and four Nissan Dynamo) retrofitted with wireless charging technology as part of the project.
Work will continue over the coming weeks to complete the installation and testing at Trent Street. Local cabbies will be able to experience the technology for themselves in the coming weeks when the trial goes live.
Wireless Charging of Electric Taxis (WiCET) is a £3.4 million project funded by Office for Zero Emission Vehicles through Innovate UK to assess the commercial and technical viability of deploying wireless charging for electric Hackney Carriages.
The project is led by Cenex, with partners Coventry University, Hangar-19, Nottingham City Council, Shell Research Limited, Sprint Power and Transport for London, with Lumen Freedom supplying the hardware.
Thanks to Chumley Arts Ltd for creating this video.